We're launching Black Tech Pipeline🚀
Finally! Our new platform is ready for action.
Phew! It's right around the corner. After nearly two years of working with the #BlackTechTwitter community and various companies through Twitter DM's and emails, we finally have a formal way to connect.
Work with Black Tech Pipeline 💻👋🏾
Black Tech Pipeline is a service based platform focused on bringing exposure, resources and opportunity to Black technologists, and our allies. We connect employers and opportunity extenders, to highly skilled and qualified talent within our pipeline. Our platform provides the support and tools necessary to help our community members grow and thrive.

What are those buttons?
Looking for work?- Black technologists who'd like to be considered for opportunities may fill out our candidate form so we can get a better understanding of their skills and goals. Opportunities range from jobs, being booked to speak, media interviews, and more! If you don't want to miss out, you can fill out the form and be added to our talent database.
Hire our talent- All employers and opportunity extenders who are interested in learning more, or using our recruitment service to hire talent from within our pipeline should fill out the form to begin the process.
Recruitment 🤝
Black Tech Pipeline's talent database is filled with technologists in the Black community, ready for their next opportunity. We partner with companies whose values on diversity, equity, and inclusion align with ours. We don't just recruit, our focus is also retention. We consult with company leadership to ensure that our talent is entering a safe space that they'd feel welcomed in long term.
Our talent ranges from Software Engineers, to Designers, Digital Marketers, Project Managers, Speakers, and more. *Technologists aren't restricted to only programmers, in my personal opinion.
Ads👁
Companies may advertise opportunities on our job board, events, and resources pages.
All advertisements have the opportunity to be published in our newsletter and posted on our Twitter and Instagram accounts, getting exposure to a combined audience of 30K+!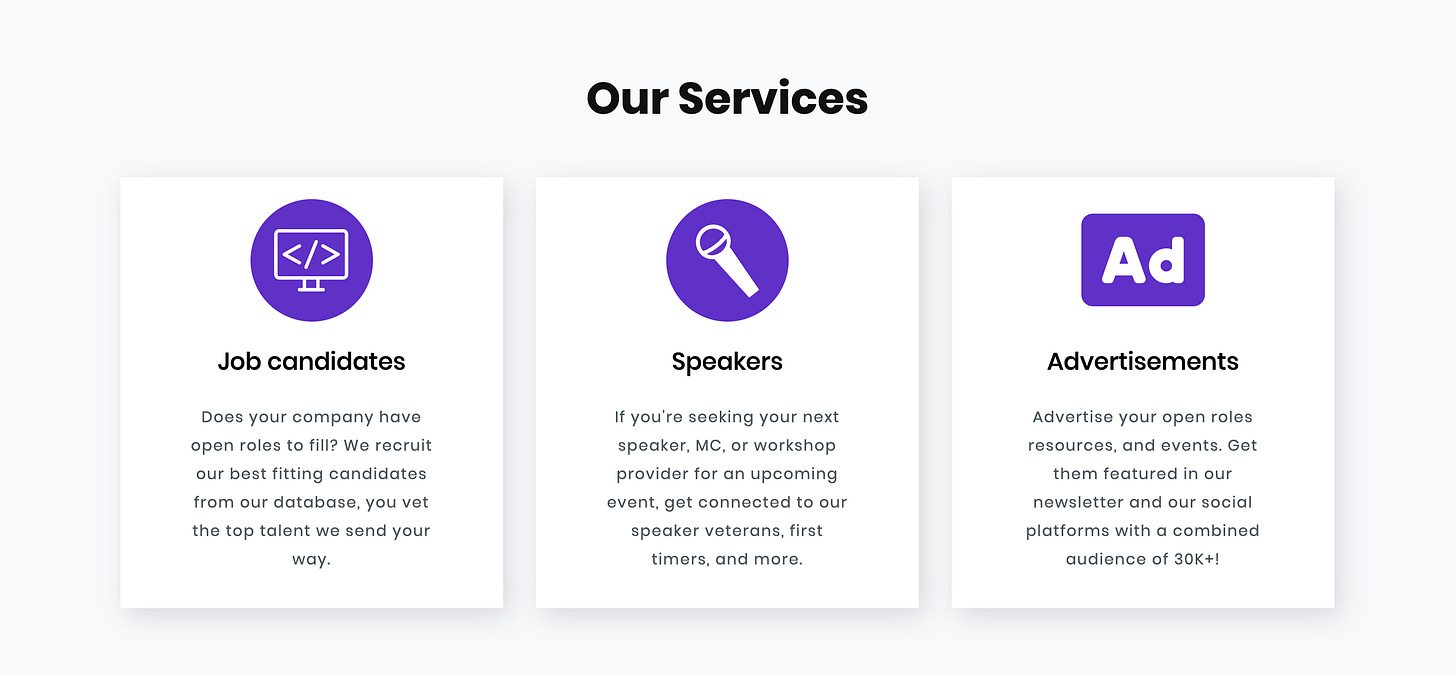 Job board🔥
All companies interested in promoting their open roles on our website will get more than a posting on our job board. They also receive a customized landing page with personalized content, giving potential applicants a more personable feel for the company. Our goal is to turn those potential applicants into definite candidates, and new hires.
On your company landing page, all open roles will appear, along with links to your social platforms, and website. Included are detailed descriptions about the company, teams, values, benefits, an overview of the vetting process, and more. We will also include photo's.
Resources📰
Our resources page allows content creators, consultants, business owners and more to promote their products and services that they feel our community would benefit from.
Events🗣
Promote your upcoming events! Whether it's a conference, meetup, or hackathon, share it with our community on our events page.
Want to be part of our launch?
👇🏾
Let's get started by setting up a call! Email me at Pariss@BlackTechPipeline.com