It's raining opportunities 🌧
Take advantage of our scholarship, a free 5 week virtual bootcamp, and job opportunities💥
Scholarships🔥
Practicum by Yandex is an educational platform that has partnered with Black Tech Pipeline to giveaway 6 scholarships to members of the #BlackTechTwitter community. Scholarships are available for the Web Developer, Data Scientist, and Data Analyst programs.
Tough decision! Before you apply, I suggest doing your research on all 3 fields and seeing which really peaks your interest✨Learn more and sign up before July 29th, for the chance to win a scholarship opportunity here.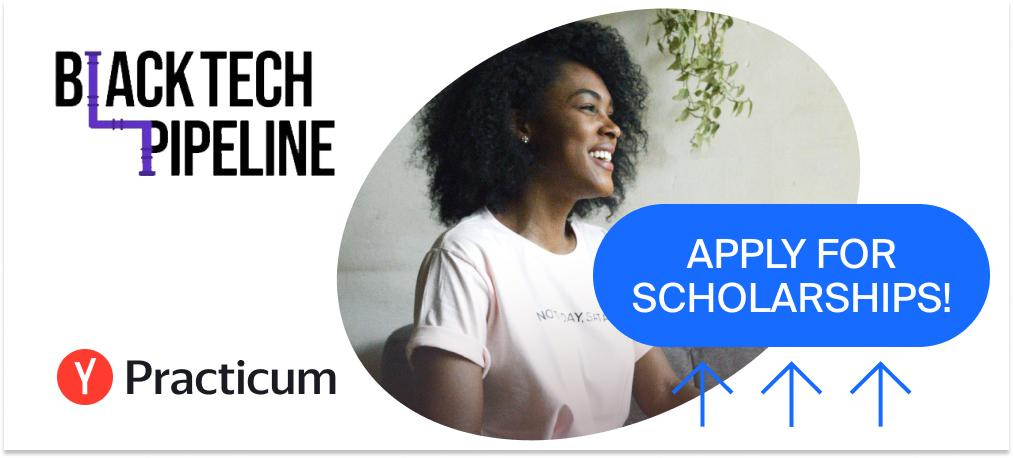 Next Scholarship…🔥
Black Tech Pipeline has partnered with Outco to offer $500 OFF their program. Outco is a career coaching service and job accelerator program helping underrepresented Software Engineers land the job they've been dreaming of.
Up your programming skills, and practice the hard and soft skills of technical interviews with Outco instructors and mentors. Learn more and sign up up through our referral page for the $500 discount here !
---
FREE 5 week virtual bootcamp ⚡️
Leon Noel, Lead Instructor and Managing Director of Resilient Coders, is teaching a free 5 week virtual bootcamp to those laid off due to the pandemic, and underrepresented groups. Leon is looking for 20-30 students to take advantage of this opportunity, and learn front end web development!
Some background on RC: Resilient Coders is a Boston-based bootcamp that pays and teaches Black/Brown and PoC people from underrepresented communities to code. After graduating from RC, their career trajectory in tech is astounding ! It's also the bootcamp that I graduated from, and Leon was my instructor☺️
*This opportunity is NOT restricted to Boston, all can apply from anywhere.
Starting on August 9th, every Tuesday and Thursday for 5 weeks, Leon will be teaching HTML, CSS, and JavaScript on EST hours. I HIGHLY recommend signing up if you've been looking to learn to code live with an actual instructor, and mentorship.
Sign up here ⚡️
Just interested in learning more? here
---
Looking for work? 🧐
Already got the technical skills and experience, and looking for your next opportunity?
Black Tech Pipeline is releasing their talent application again!
We have tons of new partners who are hiring from our community. An example of 2 roles we're currently looking to fill are:
📌Product Owner
📌Site Reliability Engineer
👉🏾If you're interested in being considered for job opportunities through the Black Tech Pipeline platform, please fill out our talent application here 🥳