Confronting racism in the workplace
Damon Benefield's story on climbing up the corporate ladder as one of the few Black men in the workplace
Over the last twenty two years, Damon Benefield has been on a corporate journey that only one could dream of! He started his career as an Executive Trainee with Robinson's Department stores. Damon had the opportunity to learn the retail side of business, from buying office environments to being on the front line with customers and leading sales associates to deliver on their customer promise as one of the very few Black men at his company. Here is Damon's story: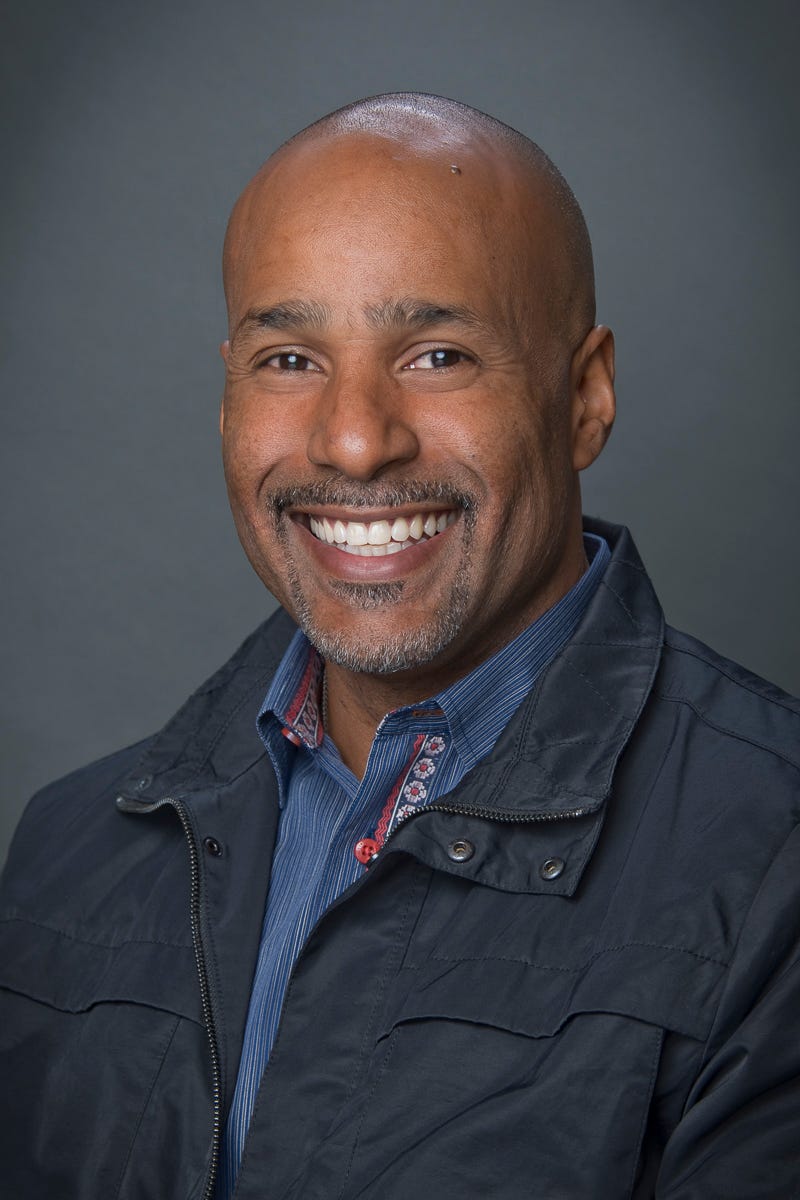 These years paved the way for future success as I earned the opportunity to showcase my skills and constantly deliver stellar results. Responsibilities included driving sales, profit, customer service, reducing shortage and managing inventory and talent development.  I was appointed VP Store Manager of Fox Hills in 2000 when I was recognized for my ability to not only deliver results, but to lead and develop leaders that embraced and protected a common vision of success. I personally enjoyed this aspect of my career. Developing people and elevating their career was my mission and passion.
In 2005, I was recruited by Macy's East where I served as VP Store Manager of one of their coveted stores, Monmouth County. In 2009, I was appointed the VP Store Manager of Fashion Show Las Vegas, which was a flagship store for Macy's. While under my leadership, the store improved from the 21st ranking store to the 10th rank in 2 years. In 2012, the promotion of a life time came my way and I was promoted to District Vice President of North Seattle. I was responsible for $350Mil in annual sales, 13 store locations, 26 direct reports, 4 wall expense and operation, sales execution, product management and flow, talent development and execution of the brand initiatives and priorities. I was the face of Macy's in North Seattle!
There was one thing that was very consistent over these 22 years, feeling like I didn't truly belong and that I wasn't accepted by the organization. From the beginning, I was very different from my peer group of 40 executive trainees. I was a 24 year old recent grad from UCLA that was already married with 2 kids. Couple that with being a Marine that served in Operation Desert Storm in 1990. Finally, wrap those points of differentiation with being a Black / Puerto Rican heterosexual male in the world of Fashion Retail. So, yes, I felt different and went through many emotional feelings over my career. Some of them positive, some negative.  Like most new executives, you go through a period of happiness and bliss that you work for such a company, but as you start to learn the true story, experience the real dynamics of the company and its people, your feelings start to evolve.
I will tell you I was super excited to land this job twenty two years ago and that feeling stuck with me to the very end.  The only difference was that in the beginning, I didn't know my worth. I was impacted and allowed the company and others to shift my emotions. Within the 1st year of my employment, I quickly understood that the preservation of my emotional state was my responsibility and that it had to be protected. Due to the corporate inherent differences that existed in the work place, which were never going to change in the near future, I had to protect myself and never be the victim.  This mindset was brought on by the fact that I was different and the experience level of the company and it's leadership had very little experience and exposure to working with people like me.  Therefore, their inherent individual biases became the company culture. Knowing that gave me clarity in my day to day work life and armed me with the passion and determination to beat them at their own game and thrive. I had to be the best at my job, so it drove me to not only learn the job, but to dominate the metrics that proved who were the best.  
Over the years, I learned to extend myself, which I believe they call 'stretching yourself to a point of being uncomfortable'.  This allowed me to build an audience wide and deep over the years that gave me name recognition, like a brand.  Finally worth noting was the unilateral level of accountability. I figured out that as much as the company wanted to hold you accountable for your responsibilities, I also was in the position to hold the company responsible to their commitment to their employees, like me. My 22 year career became a strategic plan that I executed to achieve my goals, which was to thrive in an impossible environment and to capitalize financially so that I could provide for my family, period.
In the retail industry, the presence of PoC in the corporate office was minimal!  In fact, out of 40 executive trainees, there were only 4 of us.  Within the first 5 years, 3 of the 4 attrition out and moved on to another company.  I believe I was the last man standing. I don't believe any of us ever opened up until about 1.5 years into the job, which makes sense. We were all on very unfamiliar ground just trying to learn our jobs and survive. No one wanted to be vulnerable or weak.  At the same time, the work environment created competition, knowing there were only so many job opportunities or promotions.  I remember asking myself, 'why can't we come together and have dialogue like the other groups at work or share our experience at lunch?' It always seemed like we were under a microscope and that everyone noticed when we would attempt to come together even if it were for lunch. Later in my career, when I was appointed a position as a Sales Manager at a Macy's store, I saw a different page in the culture of the company.  There were more PoC in the stores management positions. This was encouraging, but also concerning.  You see, they employed entry level managers who were no more than just doers and would never get promoted either because they came up through the stores, didn't have a degree or because they were PoC.  That was my perception of the retail landscape at that time.  While in the stores, I learned that we were stronger together than we were divided and that if we shared knowledge and best practices, there was more of a chance to excel in our jobs and enjoy more job satisfaction. In fact, the bound that we created at work as PoC served as a leveraging point within the work place.  We became the ones that were appointed special projects or the focus because of our consistent results but it went further than that, we also became a support structure for one another and not competitors. I learned how important this experience was later in my career as I marched up the corp ladder. My voice was important and valued and therefore I was able to support and speak on behalf of a marginalized group and elevate them.  Our unity in the work place is more powerful than our individual existence.
Over the years, there were several instances of racism I experienced that went from being rooted in bias behavior to just pure and expressed dislike. One of the first experience I had was in the very beginning of my career when it came to job assignment.  At the conclusion of the executive trainee program, you were then assigned to buying office where you became the Assistant Buyer for about a year and then you were suppose to go to the stores to become a Sales Manager. By the third year, you would have enough experience to understand the retail business and could pursue a buyer ship or remain on the store line and pursue becoming a VP Store Manager. What I noticed in the very beginning was that there were no POC in the Men's division.  It was exclusively for whites males that were fraternity affiliated. That might be an extreme, but that was the perception I had. When it came time to become a Sales Manager, that same bias cascaded into the stores. In fact, my white counterparts didn't even have to go to the stores, they were allowed to remain in the buying office and bypass the Sales Manager experience. Keep in mind, this all happened during the first three years of my career.  The impact on me was the following:
Why can't I work in a prestigious division?

Why do I have to go to the store for a year?

Why can't I be assigned a premier position in the stores?
Believe me when I say it was because I was Black! Believe me when I say it was because the people in leadership didn't have the experience of working along side people that were like me and were allowed to exercise their bias because of their power and role in the company.  This is what I referred to earlier when I said the individual biases of the leadership becomes the company culture. What I did was create a relationship with a few HR representatives that would always extend themselves out to me. I asked the difficult questions as to why I wasn't given the opportunity to interview for that position, or why I wasn't assigned a prestigious position or why I had to go to the stores. Of course, I didn't get the answers I wanted, but it allowed me to create an audience that was more intoned to who I was, what I represented and what my ambitions were. In hindsight, I picked the right group to air my frustration out with because I have learned that Human Resources runs all companies and are the gate keepers of everyones career. During this experience, I also learned that my White counterparts were offered higher bonuses & raises, therefore I made my request for fair compensation layered as a raise anytime I was assigned a new job which was often and frequent. What I learned is that if you can back up the request with results then you deserve it!  Not many people have the professional fortitude to bring up these issues and bank on them. When I figured this out, it fueled my desire even more to make this a lucrative career because I knew they would pay for the results if you delivered. My rule was: " You Pay for me to Play".
Later in my career, around year four, I use to work for a store manager who I knew didn't like me and didn't want me on her team. I was the cosmetic manager and I reported directly to her. She was brought into the store to clean things up because the overall store was not making plan. One afternoon, she asked me to come to her office for a meeting. I had no idea what is was about or what was about to transpire. She began to tell me how I wasn't a team player in her store and that I wasn't delivering the results she expected. I heard her out and listened to her rant for about 10min then she asked me what I had to say about her concern.  All that went through my mind was this lady is trying to scare me out of my job and has no bases to leverage on other than she doesn't like me and is expressing her biases openly. My response was simple, I requested that before we continue with this meeting, that she engage Corp. HR so that they can be a fair & unbiased mediator.  Her response to me was that I sound like a lawyer!  She adjourned the meeting and I left for vacation. Unbeknownst to me, my position as Cosmetic Manager was filled by the time I got back from vacation. Can you imagine the imagery she projected amongst the management team in the store by executing this move? It received a phone call from a peer manage who was a PoC informing me of the situation. When I returned back from vacation, there was someone else at my desk. She attempted to humiliate me in front of my peer group of over 20 managers and marginalized me in front of a store audience of over 1000 employees. I immediately called the RVP of Stores to have a conversation of what just occurred and how unhappy I was with this decision. As the RVP, he was now the clean up man for the action of his VP Store Manager. He heard me out and empathized with me on how I was treated. Don't think for one moment he was not aware of what the action was and that he wasn't prepared for me. He apologized and we worked out a plan to reassign me to another store under better leadership. He also committed to me that he would assist me in my career pursuit to becoming a VP Store Manager and saw me running a store in the future that would benefit from having a BLACK Store Manager that aligned with the demographics.  In short, telling me that my first assignment in the future as a Store Manager will be in a Black neighborhood- WOW! Upon my immediate departure and reassignment, I was also able to negotiate another raise for taking this opportunity!  
Lessons learned and exercised:
Never let them control you emotional state

Be bold in the face of adversity

Hold them accountable as they hold you

Leverage off your audience  
When I went to the East Coast in 2005 after being recruited by Macy's East, I experienced a different type of executive culture that was far more toxic than anything I ever experienced. I came from an environment where if you did your job and exceeded expectation, you were golden. I was used to a leadership team that operated from the top down and therefore was able to directly align the negative biases to an individual. In this new environment, if they didn't like you, they would all come after you. After my second year in this role, it was clear they didn't like me and I didn't know why. My immediate supervisor was just assigned to the store and on our first meeting, he delivered my long awaited annual review.  Remember, he wasn't there for the previous year, he was just assigned this territory and this was our first meeting. At the end of the conversation, he informed me that not only was I not getting a raise, but I also didn't earn any stock options. To top it off, going forward, we would have a 15 minute debrief after every visit!  I was blown away, but I was ready for the up and coming fight. I've been here before!
I plead my case with him, showed him reports and emails along with quarterly assessments that proved my value in the company. I asked specific and detailed questions of how the company came to this conclusion knowing he wouldn't have an answer. I wasn't going to back down.  Once again, I rolled the dice with HR and informed my newly appointed supervisor that I was going to schedule an appointment with the SVP of HR to discuss this conversation.  A week later, I was on the train from NJ to NYC to attend a 5:30 meeting with the SVP of HR.  We had a very open and candid conversation about my performance, the " perception" and my contribution to the company.  I believe I stated the following:
You recruited me to come join the Macy's EAST Team

You relocated me and my family to NJ

I'm not here to play games with the company

I'm here to fulfill my responsibilities as a VP Store Manager
I went on to say that you and the Senior representatives that visit my store have made no effort to develop a relationship with me. In fact, I stated the following:
You don't invite me out to lunch

you don't invite me out to play golf

you don't call to check on how me and my family are adjusting
I clearly articulated that I'm here to do a job, I'm not here to hob knob with you and the senior executive team and that you don't have to like me. At that point, I had nothing to lose and all to gain.  At the conclusion of the meeting, I made it clear that my kids would like to return back to CA and that in the future, I would like the support of the company to execute a transfer back. My goal at that point was to strategically get by in the SVP of HR and to plant the seeds of my mutual unhappiness with the company and the culture. In so many ways, I gave them an out which would protect all parties involved.
The next 9 months were the most difficult in my retail career because you knew they were after me and would throw everything at me including the kitchen sink.  They promoted my Assistant Store Manager and froze the job, visitors from every division of the company visited the store and with that was a check list at the close of every visit. When I say I was there open to close every day and even there on my days off, I'm not kidding!  My marine mentality and survival skills all came in hand.  At the close of every visit from my immediate supervisor, I made sure we met and had our debrief.  It got to the point where he didn't want to have a closing conversation because there were no issues. I took notes on everything and was completely transparent in my resolve to address all issues that impacted the store and hold all supporting parties accountable.  Within 9 months, I requested a transfer and it was granted.  
To my surprise, this experience would have a lasting effect that would follow me and my career aspiration. You see, I stood up to the machine and you just don't do that! Upon my request for a transfer, I was granted a VP Store Manage in a store in CA. A few days before I left the east coast, I received a call from my new Senior HR representative in CA that wanted to discuss a change in plans. They wanted me to go to South Coast Plaza and assume the role of an Assistant Store Manager under a seasoned VP Store Manage. To their surprise, I said of course no problem, with the contingent of securing my own store in the near future. By now, I learned how to play their game. During my 6 months in this temporary role, I knew their goal was get me to leave the company. The East Coast representatives had their hands in my career, but my performance and what I represented outweighed their influence. I was promoted to Las Vegas Fashion Show in 2009 (a flagship store).  This store served as the bow tie on my career at this point, but don't think for a minute that the bias and blatant dislike ceased.
I knew and everyone else knew that the next promotion would be to District Vice President and that's what I aspired to become. I performed above expectation, I represented the company and the brand to the highest level and I was all in. Soon into this role as VP Store Manager of Las Vegas Fashion Show, my immediate supervisor expressed how fortunate she was to have me in this role at this location. She also expressed that the company does not support me becoming a DVP.  This was a direct message from the Leadership Team that I had a run in with in the East Coast.  I was put back by that message, but I was also enjoying my current job at the highest level. My earning and bonus was phenomenal, my work life balance was awesome, I was in a good place from 2009 to 2011.  Then the conversation started in the industry of who was going to be the next west coast DVP and who was running the best store in the region. My competitive spirit rose to the occasion and my desire to be a DVP engulfed me! The sequence of event that followed were all too familiar.  Following a follow up conversation with my supervisor about my career, I requested a meeting with her supervisor to discuss my career and the position the company has taken with me.
In that meeting, the Regional VP clearly articulated that it wasn't his position to not support me in the future if a position arose. He confided in me that he challenged the senior group and asked them about their experience with me, because it has been nothing short of a great working with me while on the West Coast. In the end, I was promoted against all odds to DVP a year later.
The lessons I have learned over the years that I want to share with you are:
-We are different and before we can expect anyone else to  embrace that, we have to embrace it. You will experience racism in the work place and you should face it head on. Facing it will save you time and allow you to understand more about the company and the players in the company. You will discover where your expectations of the company and the actual company culture cross (it might be too far apart or it might bring you closer).
-Everyone learns more from uncomfortable dialogue, it's okay to be uncomfortable. Perceptions change, understanding deepens, differences disappears.

-Build professional confidence / get stronger who you are today will not be who you are in 3-5 years from now develop tough skin you see through the bull shit
know your audience build an audience wide and deep hold people accountable, the company be clear on your expectations( opportunity, pay, treatment, work place dynamics)

-Leverage your audience move from defensive / impacted to strategic / smart reach out to those key stake holders often find out what makes them tick find out whats important to them.

-Protect your emotional state and don't allow anyone to shift it. Be purposeful in your conversations, be strategic in your approach, be of value to those you work with and for the company.